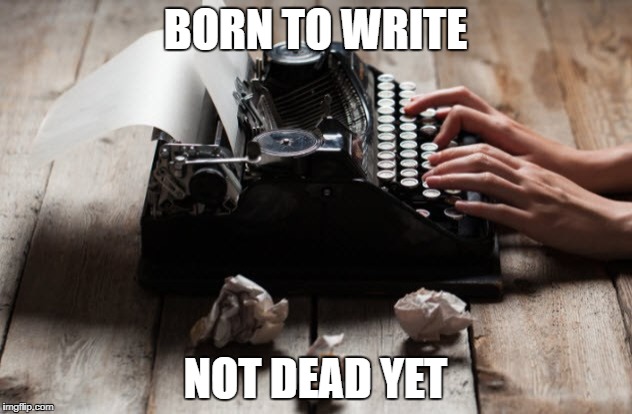 A Mini-Autobiography
A Facebook friend who hosts a podcast regularly puts out questions on Facebook. One of his latest ones?
Write a six-word autobiography.
And thus my title: Born to Write, Not Dead Yet
This is especially true after this past week and Round #3 of illness for the year. I have two takeaways from all this illness.
#1 – I made up for not getting a cold or flu for three years
#2 – Next fall, needle-phobic or not, I'm getting a flu shot – because this blows
And look, I figured out how to make a meme!
New Schedule
When I first put my daughter in public school, I didn't know what to do with myself. All of those hours at home without her, what in the world would I do with myself? My schedule of cleaning clients changed and changed again, and suddenly I was working five days a week on most weeks.
And then the kiddo said, "Mama, can we go back to homeschool next year?"
And of course, I said yes. Because I know now, after six months of public schooling, that even with the best teachers (and she has some awesome ones) that we were on the right track with homeschooling after all. She's at the expected grade level (or well above) in all subjects, she has dipped her toes into the public school environment and gotten to see what it was like, and now she is ready to return to homeschooling.
Not having to wait to go pee, or be told to not talk in the halls or lunch, and no recess breaks – public school has its drawbacks. It also had a host of fabulous teachers, and we had a wonderful experience interacting with them.
So now I needed to be ready. I examined my schedule, realized that over half of my clients were set for 9 a.m. cleanings and began sending emails and making changes.
My most creative work happens in the morning – the last thing I want is to lose that to dusting and vacuuming.
There were a few exceptions, but for the most part, my housecleanings will be in the afternoons and my mornings will be filled with writing and then in the fall, also homeschooling.
I've instituted my new schedule and will be continuing to work towards it in the weeks and months to come. I wanted to start now because having the schedule in place before the shift will make a huge difference.
I have been frustrated as well that I haven't seen as much writing progress as I might have hoped.
In the evening, before shutting down and going to bed, I close Outlook, Facebook, and pretty much everything that is distracting on my computer. First thing in the morning, instead of checking my emails, I go straight into Scrivener and look at my current writing projects. I write what I can, add to the stories in some way, and keep that focus as long as possible before moving on to the other distractions of the day.
Routine – it's what's for breakfast.

Join My Subscriber List – Read Exclusive Material for Free
If you haven't signed up for my free monthly newsletter, do it now!
One email per month, plus subscriber-only access to short stories that fill in the details of the vast Kapalaran Universe that exists in my mind. The Gliese, War's End and upcoming Chronicles of Liv Rowan series are intrinsically connected to one another and you will get to see them firsthand.
Here is what my subscribers get in each monthly email:
The link and password to the FREE short story of the month (companion pieces to my already existing fictional works)
Updates on any upcoming free book promotion and discounted ebook deals
A summary of all of my blog posts (I post in four different blogs on a variety of cool subjects) for the month
An organizing "tip of the month" (remember, I wrote this GREAT organizing book)
Updates on any upcoming classes I'm teaching
Updates on book projects
I will never sell/share your email address, there is no cost or upsell, and you can safely unsubscribe at any time.
Click here to sign up!